The Success Story of Prestige-National Security - Empowering Growth with Web Design, SEO, and Business Strategy
Meet Anjurr Henderson, the determined owner of Prestige-National Security, a reputable private security company catering to the New Tampa market.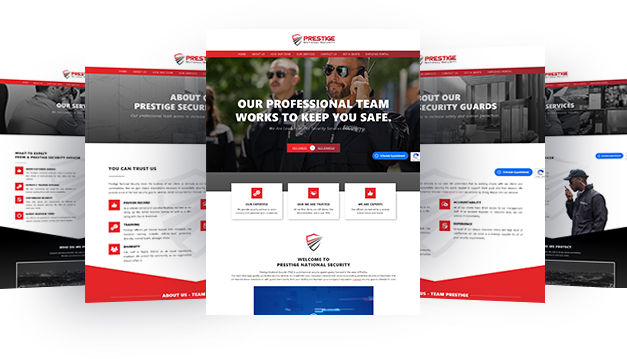 Prestige-National Security
Meet Anjurr Henderson, the determined owner of Prestige-National Security, a reputable private security company catering to the New Tampa market. As a veteran, Anjurr brings a wealth of experience and dedication to his business, ensuring top-notch security services for his clients.
Anjurr's journey towards success wasn't without hurdles. Before collaborating with Foxpoint, he faced significant challenges with previous marketing agencies that failed to deliver results despite a hefty investment of over $10,000. His online presence was lackluster, and upon assessing his website's SEO, it was evident that no substantial work had been done to improve its visibility on search engines.
Despite initial hesitations, Anjurr decided to partner with Foxpoint, seeking a reliable ally to help him navigate the complexities of digital marketing and expand his business across central Florida. Our team took a strategic approach, leveraging our expertise to empower Prestige-National Security's growth:
● We undertook a comprehensive overhaul of Prestige-National Security's website. Implementing a modern, user-friendly, and aesthetically appealing design, we ensured that the website now resonated with the company's professionalism and dedication to security.
● Recognizing the importance of a well-maintained website, we took on the responsibility of regularly updating content, addressing technical issues, and optimizing the site for seamless functionality.
● Our SEO specialists diligently worked to enhance Prestige-National Security's online visibility. Conducting keyword research, optimizing meta tags, and building high-quality backlinks, we aimed to improve search engine rankings and increase organic traffic.
● Understanding Anjurr's unique goals and challenges, we provided personalized business consulting to guide him towards informed decisions and strategic growth opportunities.
● Developing a multi-faceted marketing plan, we integrated various online marketing channels to create a cohesive and compelling brand presence for Prestige-National Security.
Objectives and Achievements
The results of our collaborative efforts with Anjurr have been truly inspiring. See video below as we interviewed Anjurr giving us little insights about how his company is moving forward positively together with Foxpoint: https://www.youtube.com/watch?v=ctNN9jw5uq4
Since December 2022, Anjurr's Company has successfully secured several significant contracts, expanding their client base and industry reputation and website's improved design, coupled with our SEO efforts, significantly boosted online visibility. They now rank higher on search engine results pages, attracting more potential clients. Our tailored business strategy and effective marketing initiatives have paved the way for Prestige-National Security's expansion across central Florida. Anjurr's passion for his business has been reignited, and he now looks forward to accomplishing even greater milestones with confidence.
Add Your Heading Text Here, Add Your Heading Text Here
Take the first step towards success by filling out the form below or giving us a call at (407) 734-1843. Our team is excited to discuss your project and provide personalized solutions tailored to your needs.
Need to contact us Directly?
Stay up to date with the latest online tips and tricks for your business.