Hundley Mechanical: A Case Study in Web Development and Digital Marketing Success
Hundley Mechanical is a reputable HVAC company that sought to revamp its online presence and expand its client base.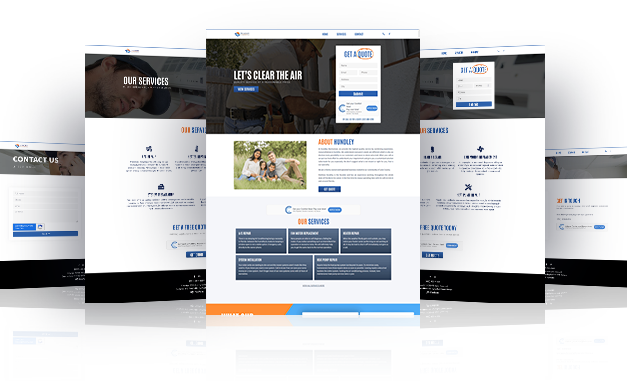 Hundley Mechanical is a reputable HVAC company that sought to revamp its online presence and expand its client base. The company partnered with Foxpoint, a dynamic web development and digital marketing agency, to achieve its business growth goals.
Matthew Hundley, the owner of Hundley Mechanical, was familiar with Kevon Miller, the founder of Foxpoint, through previous collaborations. When Kevon launched Foxpoint, Hundley Mechanical seized the opportunity to improve its online presence and build a strong working relationship with the agency. Hundley Mechanical's existing website failed to meet their expectations, prompting them to seek a complete website redesign and enhanced online visibility.
Foxpoint undertook an in-depth consultation with Hundley Mechanical to understand their goals and vision for the company. The following solutions were implemented:
● Logo and Branding: Foxpoint crafted a new logo and branding materials that reflected Hundley Mechanical's identity and values. The fresh logo design helped the company establish a more professional and recognizable brand image.
● Website Development: Foxpoint designed and developed a stunning and user-friendly website for Hundley Mechanical. The website featured a quote request system and financing application options to enhance customer interaction and increase lead generation.
● Google Ads and SEO Management: Recognizing Hundley Mechanical's need to attract new clients, Foxpoint devised and managed Google Ads campaigns to target relevant audiences effectively. Simultaneously, Foxpoint employed SEO strategies to optimize the website and improve its visibility on search engines, driving organic search traffic.
Objectives and Achievements
Hundley Mechanical's primary objectives were to scale their business and gain new clients. Foxpoint's strategic approach resulted in significant achievements:
● Increased Lead Generation: Foxpoint's efforts in SEO and Google Ads resulted in a substantial increase in leads for Hundley Mechanical. The website's improved search engine rankings and targeted ad campaigns attracted potential clients, generating a steady stream of inquiries.
● Improved Website Traffic: The website redesign and SEO enhancements bolstered Hundley Mechanical's online visibility. The company witnessed a notable increase in website visits and organic search traffic, contributing to more opportunities for engagement and conversions.
● Enhanced Brand Reputation: With a professionally designed logo and branding materials, Hundley Mechanical's brand reputation received a boost. The cohesive branding instilled confidence in potential clients and created a positive impression of the company.
● Busy Workload: Hundley Mechanical experienced a surge in business activities due to the success of the website and Google Ads campaigns. The increased lead flow and phone calls led to a busy workload for the company, driving them towards their goal of constant growth.
● Positive feedback from customers: "Great service and awesome customer service. Was very informative and helpful with our system. Trying to make our current system work as long as possible and he definitely helped us out!" – Chelsea D.
Add Your Heading Text Here, Add Your Heading Text Here
Take the first step towards success by filling out the form below or giving us a call at (407) 734-1843. Our team is excited to discuss your project and provide personalized solutions tailored to your needs.
Need to contact us Directly?
Stay up to date with the latest online tips and tricks for your business.